Popocatepetl as seen from Cholula. Clearly, this is
not the world's smalllest volcano!
Image from Nicho blog post about this amazing volcano.
A great part of Project EarthView is the questions students ask us about geography. At North Andover Middle School today, a student asked a question that took me (Dr. Hayes-Boh) back to one of the most enjoyable trips of my life (so far).
After learning about the recent eruption of San Cristobal in Nicaragua, a student asked, "What is the smallest volcano in the world?" It sounds like a difficult question to answer, because the "smallest" of anything tend to be much less known than the largest. In this case, though, I happened to know the answer right away -- though I confess I had forgotten the Nahuatl name for it.
As we prepared for our 1989 visit to central Mexico, my wife Pamela and I had read that Puebla -- the city where we would be spending the summer -- contains "El Volcán Más Pequeño del Mundo." As we entered the city we saw the enormous Popocatepetl and Itzatccihuatl, and thought the smallest volcano must be nearby.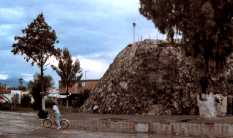 Photo: Pam Hayes-Bohanan
A few days later, we were atop the pyramids in Cholula (shown above, it was the tallest structure in North America in 1491) when we asked a local friend -- who is still a friend -- where the world's smallest volcano was. "Oh," he laughed, "you can't see it from here. It is really small! But it is near my house, so you should come for dinner and I'll show you."
When we went to his house, I kept straining to see the volcano, and was wondering how people could be so sure they had found the smallest one. And then we stepped around a corner and there was
Cuexcomate
-- and its world-record status was obvious! Pam documented our
Cuexcomate visit and other memorable parts of that summer, and Geo-Mexico provides a lot of details about this unique volcano.
View Larger Map
OTHER QUESTIONS:
To other recent questions from students, we would like to offer some brief answers. The
Seven Summits
(or Seven Peaks) are the highest mountain summits on each of the seven continents (where all of Oceania is considered a continent, rather than Australia). As described on Geography at About.com, the term
Seven Seas
has at least three meanings. It can refer to a life spent on seas in general, to seven particular seas of particular importance in the early history of Europe and southwest Asia, or to today's seven major ocean basins.