The EarthView team is very pleased to be visiting Collins Middle School in Salem. Team members Domingo and Hayes-Bohanan attended the annual meeting of the New England and St. Lawrence Valley Geographical Society when it met in Salem in 2009. They and other members of the team enjoy visiting Salem's many historic sites and museums, or simply walking around the beautiful center of the seaside city.
The Collins School is located very close to the most infamous event in Salem's history, and one to which EarthView team member Dr. Hayes-Bohanan has a family connection. His wife and daughter are direct descendants of Rebecca Nurse, one of the victims of the 1692 Witch Trials. Her hanging took place just a
few hundred yards from the school, on aptly-named Gallows Hill
. Even before we learned of the connection, the story of Rebecca Nurse has been of special interest, and we have appreciated both the
educational materials provided by the Salem Witch Museum
and the serene
Salem Witch Trial Memorial
. The stone benches that honor each victim create a serene space in the center of town where people can contemplate the tragedy.
That tragedy from three centuries ago does not entirely define Salem, of course. Though the city is identified with witches in both serious and light-hearted ways, it is geographically significant in many other ways. These include achievement in the arts and architecture and of course a rich history of seafaring and trade. The delightful
Peabody Essex Museum
is a great place to learn about Salem, New England, and the world as a whole. Current works include exhibits about container ships, a means of transportation that has really changed the world!
As always, our orientation to EarthView will also include some discussion of the planet's second-largest continent -- Africa -- which some people mistakenly believe to be a single country, or entirely comprised of "jungle." In reality, Africa is large and diverse in both its physical and human geography.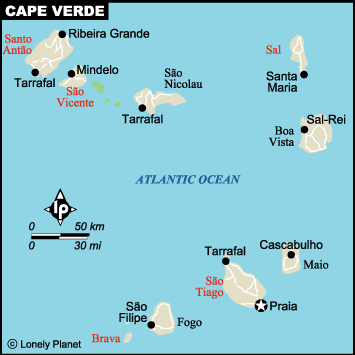 We are very pleased that the EarthView team will be joined for this and other upcoming visits by Paulo Borges, a graduate student at BSU who will be speaking a bit about his home country. Like many students at BSU, he is from the island country of
Cape Verde
, located about 400 miles west of the westernmost part of mainland Africa.
Cape Verde is a fascinating country with a very small area but a rich history of connections to the rest of the world. Paulo will tell a little about the environment of his country, and why Cape Verde is much better known south of Boston than it is to the north.